April 24, 2023
6 mins read
When was the last time you picked up your phone to see a meme sent from a friend via text? If you are like the average American, it was probably sometime within the last week, if not within the last 24 hours. Imagining life without memes is nearly impossible, as they've infiltrated most areas of life. Funny or thought-provoking images combined with shareable text can transcend cultures and identities, and they are a key component of today's digital culture.
What does this mean for brands? Meme marketing is becoming a highly effective way to take a brand's message and make it go viral. Here is a closer look at meme marketing and what it means for today's companies.
What is Meme Marketing?
A meme is a small piece of content, usually image-based or using a GIF, that is humorous in nature and spreads rapidly through the Internet via social media channels like Twitter, Facebook, and YouTube. According to HubSpot, meme marketing is the use of memes to promote a brand's image and narrative. When done well, a meme will spread like wildfire, taking your marketing message around the globe.
Benefits of Meme Marketing for Brands
Marketing with memes can have several benefits, including:
Cost – It costs little to nothing to create a meme.
Reach – When done well, a meme can reach many people in a short time.
Engagement – People like sharing memes. Thus, you'll get higher engagement from your target audience
Ease – It is easy to create and post a meme without much tech or marketing knowledge.
Universal appeal – Most audiences like and engage with memes, regardless of age, culture, or gender
Challenges of Meme Marketing
Like all types of marketing, meme marketing has inherent challenges, such as:
Longevity – Most memes are short-lived, but the fact that they are easy and cheap to create can counter this drawback.
Competition – Your competition may know how to use a meme to capture your audience better than you do, and the short-lived nature of memes can make it difficult to capture your audience if you're late to the party.
Research – Though they are easy to make, effective memes require a thorough knowledge of marketing and branding and significant amounts of research.
Potential to offend – Because memes tend to be sarcastic, they can offend some parts of your target audience.
Example of Successful Meme Campaigns
To see how effective meme marketing can be, consider these successful campaigns from familiar brands:
Gucci
Gucci created a meme using a man's hand, some wilted flowers, and a well-placed watch, riffing off the famous Arthur meme. This is an effective meme because many people are already familiar with the Arthur meme it references while also being relatable because most people in relationships can relate to attempting (and failing) to impress your partner. It does all this while prominently displaying the product.
Netflix
Netflix is adept at meme marketing because it has a library of still images it can pull from its vast library of video content. This meme works on multiple levels. It captures the attention of fans of the television show Arrested Development while also amusing people at the thought of "breakfast wine." Those unfamiliar with the program but amused by the meme may decide to check out the show on Netflix, and existing fans might decide it's time to revisit an old favorite.
BarkBox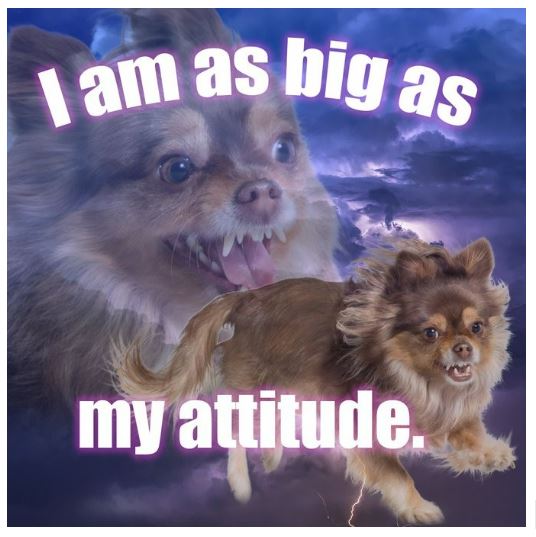 BarkBox captures the attention of social media users in its target audience by tapping into their love of their pets. This meme uses the attitude of many small dogs to make people laugh, making people associate their pets with the products the brand offers.
Tips for Creating Shareable and Engaging Meme Content
If you want to market with memes, you need to use them effectively. Here are some tips.
Consider the Cultural Context of Your Memes
One of the worst things a brand can do when trying to market with memes is to offend a target audience or particular group. Make sure there is no cultural context that could lead to controversy.
For example, if your audience includes children or teens, don't use suggestive imagery or language, as these are not family-friendly. If you want to include a minority or ethnic group in your target audience, do not include culturally charged words in the meme branding images you create. While these will certainly grab attention, it won't be the type of attention you want.
Understand the Humor Behind Memes
Memes are supposed to be funny, but they contain a special type of humor. The humor of memes works because it is unexpected and usually includes a bit of sarcasm. The picture combined with the text should make sense but also surprise the person viewing the meme. Failed attempts at humor or not seeming to "get" the joke can make your brand seem out of touch and potentially alienate consumers, so make sure to do proper vetting to verify that the joke is "landing."
A visual portfolio should showcase multiple skill sets and media when possible. The more variety in an artist's portfolio, the more appealing they will be to a potential employer. While completing an art and design degree online, students will create art for their coursework which can then be added to their visual portfolio. Sometimes a portfolio showcase is a capstone project to complete these degrees, so students should keep copies of all the art they create while attending online art school.
Use Current Trends and Events in Your Content
Memes are short-lived, which means you have to grab interest while it is hot. If you see a funny meme image that works for your brand, jump on it with your own text before interest dries up. Is there a challenge trending on social media? Tap into it with a meme marketing campaign. If you have a seasonal meme idea, post it while the timing is right. When a buzzword is trending in your community, make a meme about it before it loses traction. The more current and on-trend your meme is, the more effective it will be.
Focus on Storytelling and Engagement
Use memes to tell a short, funny story that elicits conversation from your audience. By focusing on storytelling and engagement rather than a blunt call-to-action, you will find your meme marketing to be more effective.
The Future of Meme Content in Marketing
According to HubSpot, today's social media feeds are 90% memes, a trend that is unlikely to change any time soon. The average Millennial views 20-30 memes per day, compared to about 5% engagement with other types of marketing images. This means that memes have naturally organic reach, and they are shaping up to be a huge component of the marketing plans of the future. Gen Z is even more into memes, filling Pinterest boards and Instagram feeds with funny internet meme after internet meme.
Meme marketing is quickly developing into one of the most effective social media marketing strategies brands can employ. The witty, potentially viral images and GIFs can quickly get your story out there. If you aren't already using memes as part of your marketing toolbox, get started so you don't completely miss the mark in the future.
How a Degree in Digital Marketing Will Prepare You for the Future of Meme Marketing
Meme marketing looks to be the future of digital marketing, but it is just one part of the puzzle. Understanding all the components of digital marketing is essential as you work to be an effective marketer in our ever-changing world. One way to capture and stay at the forefront of these trends is with a degree in digital marketing.
Lindenwood University Online offers an online bachelor's in digital marketing with flexible study options, a wide range of financial aid options, including military benefits, and cutting-edge technology. Backed by a university that has been educating students for nearly 200 years, this degree can help prepare you for a marketing career, both now and in the future. Reach out to our admissions team to learn more about our degree options.